Vincenzo Notaro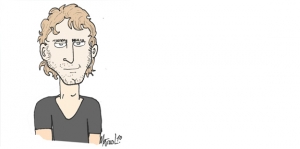 Vincenzo Notaro was born on 11 March 1979 in Naples, where he spent his childhood as a scugnizzo (Neapolitan urchin). In the mid-90s he moved to Latina (Lazio region), where his carefree nature gave way to an increasingly muddy and marshy - almost stagnant - character. When he was 19, he tried to disentangle himself from Latina's quicksand by moving to Bologna
, although without any clear plan (becoming a communist? having a dog? having tons of piercings? being hated and cursed by locals because of the droppings left on the pavement by his new four-legged friend?).
Nevertheless, Bologna managed to broaden his horizons. Once he had put aside his former odd ideas, he started attending drama classes, cinema training courses, sometimes even university. And he made his first shorts, both as an actor and a director. Despite this considerable amount of activities, he also managed to graduate and to obtain a degree in Humanities (even though at the DAMS, the faculty of performing arts). On a gloomy day of March 2005 - before the disbelieving eyes of his relatives and friends, who had come from the marsh - he was elevated to the rank of Dottore (Bachelor of Arts).In the spring of 2005 he moved back to Latina - where he is still living - but this time with the firm resolution not to let himself be drowned again by the quietness of the marsh - with a certain success, we might add. Here, with a group of friends driven by the same passion, he has taken part in several film productions, shorts, documentaries, and has been involved in many projects holding different roles, both as a director and as a member of the staff. Some of these people are nowadays authors contributing to Daimon Production (because, as they say, "IT'S A SMALL WORLD").
Works as a director and author from 2005 to 2009:
FERRAGOSTO, short.
LOW COST, short.
NON CE LA RISCHIAMO, short.
LE PASTE CHE SPACCANO, short.
VISIONI DISTORTE, short.
ASHRAF SABER. NUBIANO DI ROMA, documentary.
RITRATTI DI BORGHI, documentary.
IL PASTORE E GLI ALPINI, documentary.
Works he contributed to from 2005 to 2009:
Video assistant in MA CHE CI FACCIO QUI, directed by Francesco Amato and produced by Rai Cinema.
Video assistant in MIO FRATELLO È FIGLIO UNICO, directed by Daniele Lucchetti and produced by Cattleya.
Assistant director in PROFUMO DELLA PRIMAVERA, directed by Renato Chiocca and produced by RPR.
Assistant director in DIFFERENTI, directed by Renato Chiocca and produced by Agesci.
Assistant director in N 24, directed by Andrea Battaglini for THE 48 HOUR FILM PROJECT
back to top